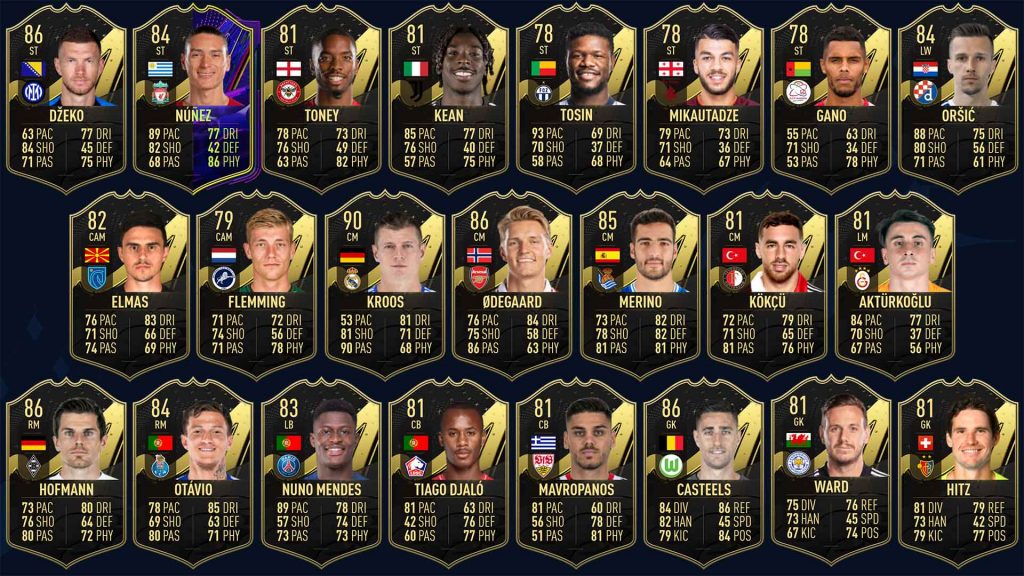 On Tuesday, November 29 at 6 o'clock, FIFA 23 Team of the Week will come to an end, bringing us a brand-new Team of the Week. Every Wednesday at 6 p.m. UK time, EA announces the weekly TOTW promos for FIFA 23 and packs the cards for sale. What players need to know about these special cards, the finest FIFA 23 TOTW 9 lineups, and TOTW 10 predictions are provided below. In order to update their player equipment in the game, players also need enough FIFA 23 coins.
What are TOTW cards in FIFA 23?
The 23 players who excelled in the most recent round of domestic or international competition, whether it be a hat-trick striker or the greatest goalkeeper, will get FIFA 23 TOTW cards. A unique black card with improved stats and a better rating will be given to each of them as compensation. Each new card that a player receives if they are fortunate enough to win many TOTWs throughout the season will have a higher rating than the preceding card.
Players that are currently on the Team of the Week will only receive the special edition card throughout the week because their TOTW card will replace their regular Gold, Silver, or Bronze card in the pack. The previous batch of Team of the Week cards will be permanently removed from the pack and converted back to ordinary cards whenever a new one is issued.
FIFA 23 TOTW 9: Starting on November 16, Team 9's best lineup for the week
The inaugural Best of TOTW edition honors the well-known athletes who received formal invitations prior to the start of the 2022 World Cup.
Kevin De Bruyne (Manchester City)
Mohamed Salah (Liverpool)
Neymar Jr (PSG)
Toni Kroos (Real Madrid)
Joao Cancelo (Manchester City)
Erling Haaland (Manchester City)
Kevin Trapp (Frankfurt)
Nicolo Barella (Inter Milan)
Wissam Ben Yedder (Monaco)
Tomori (AC Milan)
Federico Valverde (Real Madrid)
Early in 2023, TOTW10 will return.
We were forced to delay the front-runners for Team of the Week because the World Cup in Qatar is currently in progress. But don't worry; EA has built up a lot of buzz to make it simpler for us to succeed. For instance, the Black Friday promotion began on November 25; we are not required to worry about not having a TOTW card; and the greatest lineup of the week will be present.
Every Wednesday at 6 PM GMT, cards for TOTW 10 will be unveiled. In years past, we anticipated TOTW 10 to drop on November 23. EA will however declare a delay in the customary TOTW releases, with promotions continuing once domestic football returns, as most leagues have been paused as players focus on the World Cup. We anticipate the TOTW will return on Wednesday, January 4, 2023, given that the World Cup will last until mid-December and that the majority of European leagues won't resume play until at least Boxing Day. In contrast, FUT Champions prizes will not include TOTW items but rather a minimum total payout and player choice.
As part of Black Friday, here is all the information you need to know about the FIFA 23 TOTW team, predictions, and more. Visit the NF17.com blog for more details on FIFA 23.